Dr. C.P.Srivastava Memorial Lecture
Inaugural Dr. C. P. Srivastava Memorial Lecture, 8th July 2014
To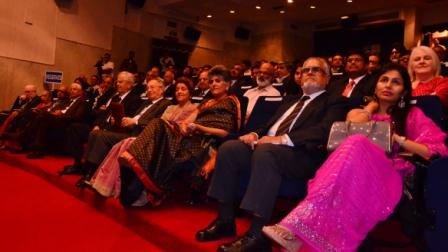 commemorate the outstanding contribution of Late Dr. C. P. Srivastava (1920-2013) to the global shipping and to Tolani Maritime Institute in its formative years, the TMI Governing Council hosted the Inaugural Dr. C. P. Srivastava Memorial Lecture on 8thJuly 2014 at Y. B. Chavan Pratishthan Auditorium, Nariman Point, Mumbai. The event was well attended by the eminent personalities from shipping industry and family members of Dr. C. P. Srivastava. Tolani Maritime Institute will be hosting this event every year in the form of "Dr. C. P. Srivastava Memorial Lecture" which will be delivered by the eminent personalities on a topic on concurrent interest.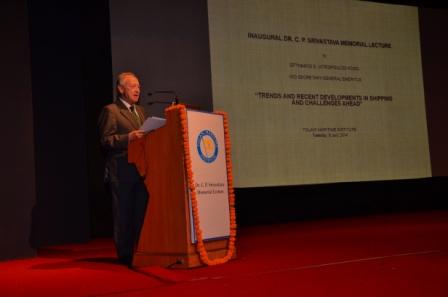 The inaugural lecture was delivered by Mr. Efthymios E. Mitropoulos, KCMG, Secretary- General Emeritus, International Maritime Orgainsation. Mr. Mitropoulos is a graduate of both the merchant and the naval academies of Greece and having an experience of twenty years as a commissioned Hellenic Coast Guard Officer retiring as Rear Admiral. He has been actively involved in the functioning of IMO for thirty five years in various capacities. He spoke on the topic "Trends and Recent Developments in Shipping and Challenges Ahead" and gave a new perspective to the doyens of maritime industry and made the audience privy to the various developments in the shipping, shipping trends and challenges, Shale revolution, protection and preservation of the marine and atmospheric environment and its ramifications. He also gave valuable insights into the international dimension on seafarers and Corporate Social Responsibilities of the marine industry. Mr. Mitropoulos, in his lecture admired and highlighted the contribution of Dr. C.P Srivastava to the International Maritime Organisation in his capacity as Secretary – General for 16 long years and later as Secretary – General Emeritus and referred to him as father figure, mentor and role model and also as his counsel. He described Dr Srivastava as a great son of India and distinguished citizen of the world.
During the function, Dr. B. K Saxena, Principal Tolani Maritime Institute in his welcome address shared his experience of working with Dr. C.P. Srivastava and mentioned him as a teacher and a mentor. He admired his vision for TMI and passion for maritime profession.
The welcome address was followed by a video on Dr. Srivastava as a mark of homage. The video was fitting tribute to his contribution to TMI and marine industry in particular.
The gathering was also addressed by Ms. Sadhana Varma, daughter of Dr. Srivastava,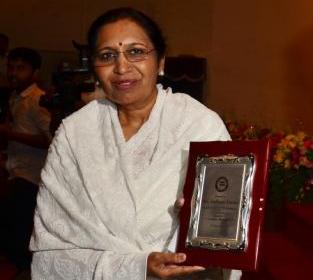 who had come especially from Italy for the function. She remembered Dr C P Srivastava as not only a loving father and a friend, but also a visionary. She recalled her parents with great gratitude and also shared the glimpses of Dr. C. P. Srivastava's journey of life. She remembered his association with India's Prime Minister Lal Bahadur Shastri as his Secretary. She considered him as a legend in the world of Shipping. She appreciated him for his dedication to his work.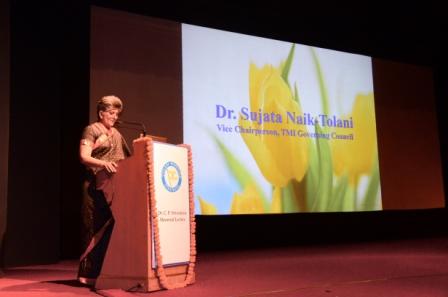 Dr. Sujata Naik Tolani, Vice-Chairperson, TMI Governing Council addressed the gathering and elaborated on the idea of memorial lecture. She said that TMI would like to celebrate Dr. C.P Srivastavas's birthday with a lecture by eminent personalities in the field of maritime industry as a tribute to him. She recalled his contribution in the formative years of TMI and appreciated his integrity, humility and natural leadership qualities. She expressed her genuine desire and belief in spreading his message to all the stake holders and to invigorate the whole shipping profession by organizing annually Dr. C. P. Srivastava memorial lecture.
The memorial lecture was concluded by the vote of thanks proposed by Capt. Raj Razdan, Provost, TMI. He described Dr. C. P Srivastava as a guiding light of the institute and a true leader. He expressed his gratitude towards TMI Governing Council and industry representatives for their untainted support towards all initiatives of TMI. He thanked one and all who contributed to the success of the inaugural lecture of the series.