Graduation 2013
Tolani Maritime Institute celebrates Graduation Day for Marine Engineering Class of 2013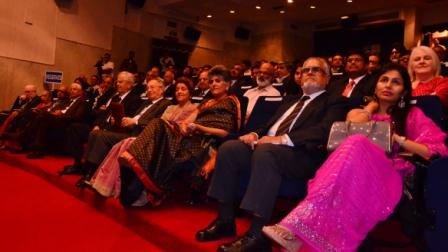 It was a very special day for these students of class of 2013 on TMI campus here in Induri. Students went nostalgic on their last day at the campus holding prestigious BITS, Pilani degree and job offer letters from many prominent shipping companies. The TMI has modified them as officers from apprehensive cadets when they joined over four years back for training on the campus. Students were raring to go and face the new challenges which will be thrown at them at high seas. The jubilant and joyous faces of students brought cheer to all teachers and their parents for their fulfillment of job well done. This was just a proud moment for all faculty and staff members of the institute who involved themselves in shaping the career of these passing out cadets!
The invocation of Goddess Saraswati Vandana by TMI students set the ball rolling for day's proceedings. Dr. B. K. Saxena, Principal welcomed the Chief Guest, Shri Amitava Banerjee, Chief Surveyor-cum-Additional DG (Engineering), Govt. of India, Guest of Honour Prof. S. Gurunarayanan, Dean, Work Integrated Learning Programmes (WILP), BITS, Pilani, Dr and Mrs. N.P. Tolani, Founder  and Dr. (Mrs.) Sujata Naik-Tolani, Vice Chair person of Tolani Maritime Institute, Induri. In his welcome address, Dr. Saxena emphasized cadets to inculcate the passion for the profession and make TMI and nation proud. Dr. (Mrs) Sujata Naik-Tolani addressed the gathering and briefed all present about the achievements of TMI in last one year. She appreciated the efforts of TMI faculty and staff in transforming the shy and quiet students into confident Marine Engineers. She advised the graduating class to follow safety measures in their routine sea life and strengthen the TMI alumni association.
Prof. I. K. Basu, Program Chair- Marine Engineering, presented the account of the course and new achievements. He asked the students to visit TMI in future to share their work experiences along with the technological advancements in the industry and the new job avenues. He insisted students to be in touch with TMI for any consultation which would arise in their professional life.
Chief Guest, Shri Amitava Banerjee, in his address after the prize distribution, congratulated students for their spectacular achievement. He insisted them to apply their skills and knowledge for their dreams to come true. He advised them not to divert from the direction of work ethics and dedication for the profession. He also asked to rise to the occasion of challenge and expectations of the Indian seafarers around the world. Cadet (Ms) Jannat Bhuller stole the show by bagging the prestigious Chairman's' Gold Medal for Best All Round Performance.
Capt. Raj Razdan, Provost, TMI, thanked all present, especially parents for keeping faith in TMI for providing good education and all the placement partners for continuing to offer scholarships, awards and jobs to students over the years.
Capt. Indranath Banerji and Ms. Puja Awachat compered the program and curtains came down with the National Anthem.