SNAME Project
TMI Students Participate in MARAD – SNAME Project Competition
Maritime Administration of US (MARAD) in concert with SNAME (The Society of Naval Architects & Marine Engineers), conducted a design competition for the Marine Transport Highway systems which are economically competitive, safe to operate, environmentally friendly and energy efficient. This competition was open to international students and Tolani Maritime Institute was one of the participating institutes.
The problem definition aimed at designing a service for transport of 150 trailers per day from Bridgeport, CT to Jacksonville, FL and return with an equivalent number of trailers per day. Trailers had to be assumed to be 53 ft. long, 8.5 ft. wide and 13.5 ft. high. The vessels had to be capable of providing accommodations for the drivers. The designer had to determine the number of vessels necessary to perform the service. Transit time did not necessarily need to be within a single day, but the designers had to discuss the rationale for the selected speed and frequency of arrival. Designers needed to research any dimensional constraints imposed by the respective ports. The final report had to provide sufficient detail to provide confidence that the design was feasible and had to provide proforma for economic operating analysis to yield a required freight rate for profitable operations.
The entire problem was conceptualized and executed by six students under the guidance of two faculty members and was completed within the stipulated time of two years in June 2012.
The teams addressed all the issues as defined in the problem statement and designed the Ro-Ro ferry deemed fit for the purpose. The highlight of the design was the methodology adapted for internal shifting of the large trailers having large turning radius by using a conceptual ATTM method. The stability and strength analysis of the ferry was done with the help of MAXSURF and AUTOCAD. LNG propelled diesel electric system was adopted for propulsion system.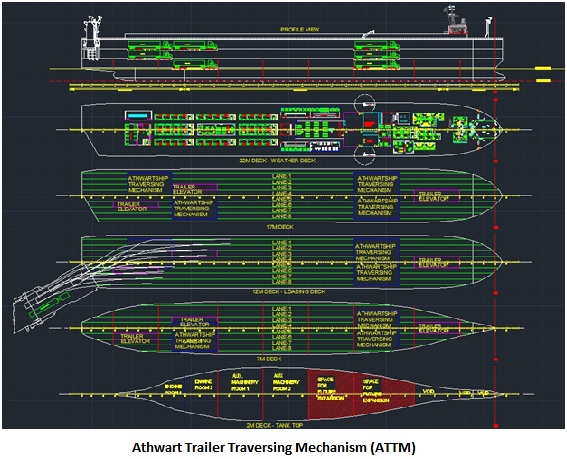 The efforts of the team were praised by one and all including senior faculty members, domain experts and Chief Surveyor, Govt. of India.