Transtech – 10 news
TRANSTECH 2010, 18 – 20 March 2010
Organised by Tolani Maritime Institute in association with The Institution of Engineers, India, Mah. State Centre 
Transtech 2010, a third event in the category of student tech-fests at TMI was inaugurated on March 18. The morning of first day was marked by presence eminent personalities from Shipping and related industries. Mr. MV Ramamurthy, President, Reliance Shipping and Institution of Marine Engineers India inaugurated the event.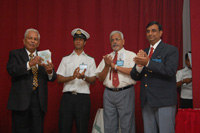 He presented very meaningful and highly relevant information on transport sector economics and statistics on pollution. Mr Ramamuthy also stressed on the need of innovations in the transportation sector. He also interacted with a large number of students in the informal sessions and guided them. A wonderful video of Cdt. Kushank Agrawal regarding progress in transport sector and a skit directed by Cdt Ashish Jain were not only entertaining but also set the pace for the discussions.
The event also marked the presence of father figure in mechanical engineering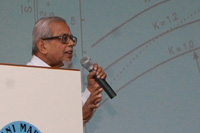 Dr. S K Basu, Prof Emeritus, COE, Pune.   He explained the concept of 'Reliability in Design and Manufacturing' with live examples drawn from his projects done with DRDO. It was a rare opportunity for the students and faculty of TMI to listen to such an eminent Professor. Dr Ramakumar, DGM (R & D), Indian Oil Corp.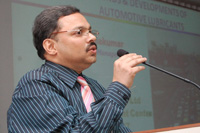 elaborated upon the basic chemistry of automotive lubricants, their formulations and marketing. He also presented the trends in automotive lubricants in a very informative talk.
There were 8 technical sessions on stressing IC engines, fuels, materials, propulsion, safety, environmental considerations etc. The total number of 70 participants registered for the event out of which 35 papers were presented by the students of colleges across the country during the seminar. The buzzwords in technical sessions were engine modifications, 6 strokes engines, Scuderi engines, fuel cells, Jatropha, Bio-diesel, electric propulsion, ceramic coatings, LNG, CNG, Sox, NOx etc. Some wonderful concepts like collision avoidance systems were also presented.
It is worth mentioning that the entire show was managed by TMI students. Cdt Ankit Ahuja and Cdt. Adnan Ahmed lead the team who managed the show. Transtech proved to be  a different type of learning opportunity to all the students present.
The technical sessions were timely completed by various session chairs without compromising the queries of audiences. A team of judges headed by Dr RB Ingle ensured proper judgment of papers. Thus, Transtech 2010 has taken us beyond the scope of our day-to-day, regulated environment.
Five consolation prizes for Rs. 2000/- per paper were given by the Institute of Marine Engineers, Pune Branch in addition to the three prizes for the event. Thus, total of eight prizes were given. First prize, for Rs. 11000/-, sponsored by Lloyd's Register was given to Vishwakarma Maritime Institute, Pune. Pravara College of Engineering, Loni bagged the second prize for Rs. 7000/- sponsored by TORM shipping. Third prize for Rs. 5000/- was bagged by Tolani Maritime Institute, Induri, Pune.