Transtech 13 News
TRANSTECH 13– National Level Technical Paper Contest for Students at
Tolani Maritime Institute (TMI), Induri, Pune
Tolani Maritime Institute (TMI) along with the Institution of Engineers (India), Maharashtra State Centre, Mumbai and Institute of Marine Engineers (India), Pune Branch conducted "TRANSTECH -13", the 6thAll-India technical paper presentation Seminar at its campus at Induri from 7thto 9thMarch 2013.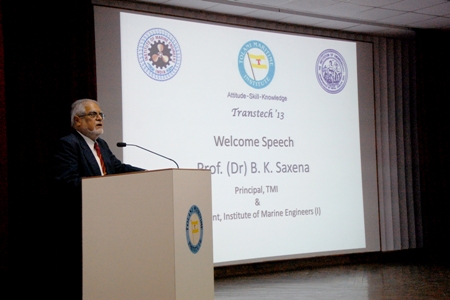 "TRANSTECH" provides a common platform for engineering students in all fields to present technical papers on various topics of interest, encouraging the students to do research work and empowering them with thinking ability. The theme of TRNSTECH 2013 was "Advancement in Technologies for Sustainable Development".  This was well received by the student community across the country and the response to this event in terms of papers and models was enthusiastic.  The event received 70 abstracts followed by 55 full length papers out of which 24 papers were selected after peer review and moderation. Finally 24 papers were presented in six sessions during the event.
The inaugural session was marked by the presence of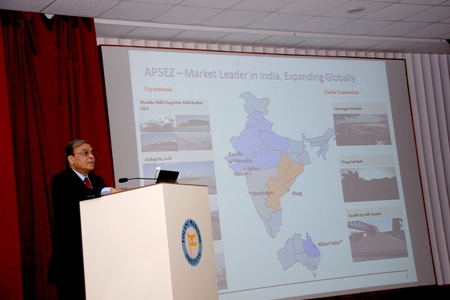 Mr. Rajeeva R Sinha, Director, Adani Ports and  Special Economic Zone Ltd, who  enlightened   the audience with information on Shipping industry, It was very interesting to learn about the sustainable development initiatives at Adani Ports from the very own experiences of Mr.Sinha. Mr Rajiv Sathe with vast experience in logistics spoke on "Container Transportation and Tracking". He took the audience through the interesting world of container movement across the globe.
The evening of first day witnessed a wonderful Bharat Natyam performance by Ms. Vrushali Chitaley, who is a disciple of Dr. Smt.Sucheta Chapekar (Sangeet Natak Academy Awardee)
The second day was witnessed by Mr Alok Jyoti Basu, Vice President, InCab Industries Ltd., Pune, who gave a very informative talk on "Application of Electric cables in Power Transmission and Distribution" covering fundamentals of cable construction, specifications, testing and various applications.
TMI cadets presented variety entertainment programme in the evening of the second day.
On The final day, Mr Pravin Kirolikar, India head, Golten India Pvt Ltd. and Mr R.Sudharshan Head- Operations- Goltens India Pvt Ltd,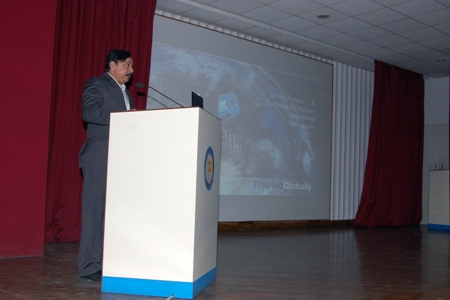 delivered their technical presentations On "In Situ Machining". They took the audience to the world of machining.
Rear Adm. R. M. Bhatia, Executive Director, Pipavav Defence and Offshore Engineering Co. Ltd, Gujarat was the Chief Guest of Valedictory function and talked about the shipbuilding activities at Pipavav.
The three-day program was well represented and attended by more than 200 participants from the industry, members of IME(I), IE(I) and students and faculty members from 12 colleges.
Paper Presentation Prize winners
SN

Author

Institute

Title of Paper

Prizes

1

Md. Asif Chand , Rishabh Monga
Vellore Institute of Technology, Chennai
Optimization of hydrogen di engine to reduce nox emissions

First Prize  Rs 11000/-

2

Eugene Fonseca ,Gaurav Verma,  Harsh Pandey
Tolani Maritime Institute, Induri
Hydrogen powered gas turbine

Second Prize  Rs 7000/-

3

Charu Ratna
Tolani Maritime Institute, Induri
Marine applications of fuel cell

4

Rakesha Ravindra
Tolani Maritime Institute, Induri
Quasiturbines

Third Prize  Rs.5000/- shared

5

Mangala Deoghare
Tolani Maritime Institute, Induri
Propulsive efficiency of merchant ships – modern techniques for improvement

6

Akash Pise
Tolani Maritime Institute, Induri
 Sustainable marine development strategy and approach in India for inland waterways

Consolation Prize  Books worth Rs 2000/- each

7

 Z.Nabeel Ahmed, M.J.Pavithra Raauj
GKM  College of Engg and Tech, Chennai
Ceramic age in engineering

8

Harsh  Agarwal, Shrirang Khadilkar
Noorul Islam University, Kanyakumari
LNG as an alternating fuel

9

Harpreet Singh Dhupar, Shirish A Dixit
Great Eastern Institute of Maritime Studies,Lonavala
Role of I.T. and Communication in Enhancing Education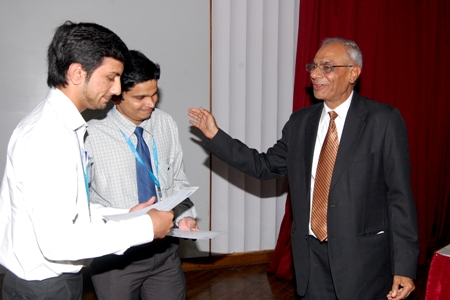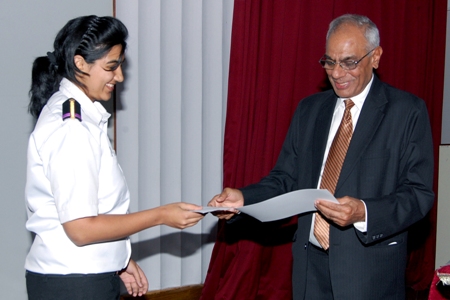 Model display Prize winners
Sr No

Presenters
Institute
Model Name

Prize

1

Himanshu Bhargava,  Tej Pratap Singh and  Vaibhav Saxena
Tolani Maritime Institute  Pune
Lifting & detecting robotic arm

First Prize  (Shared )  Rs.10,000/-

2

Ashutosh Kumar, Ashish Padhi,  Joy Dev Mukherjee, Himanshu Chaurasia and Prateek Kashyap
Tolani Maritime Institute  Pune
Elevator control based on plc

3

Sharath Krishna
Tolani Maritime Institute  Pune
Stable hull design

Second Prize   (Shared)  Rs.5,000/-

4

Prateek Saxena & Sujoy Devsarkar
Tolani Maritime Institute  Pune
Line follower robot