Campus Infrastructure
The TMI campus is built in a rural area with neither the benefits of an urban infrastructure nor the constraints of the cityscape. This made it possible for the TMI campus to be purpose built with infrastructural facilities that could be leveraged for the learning experience.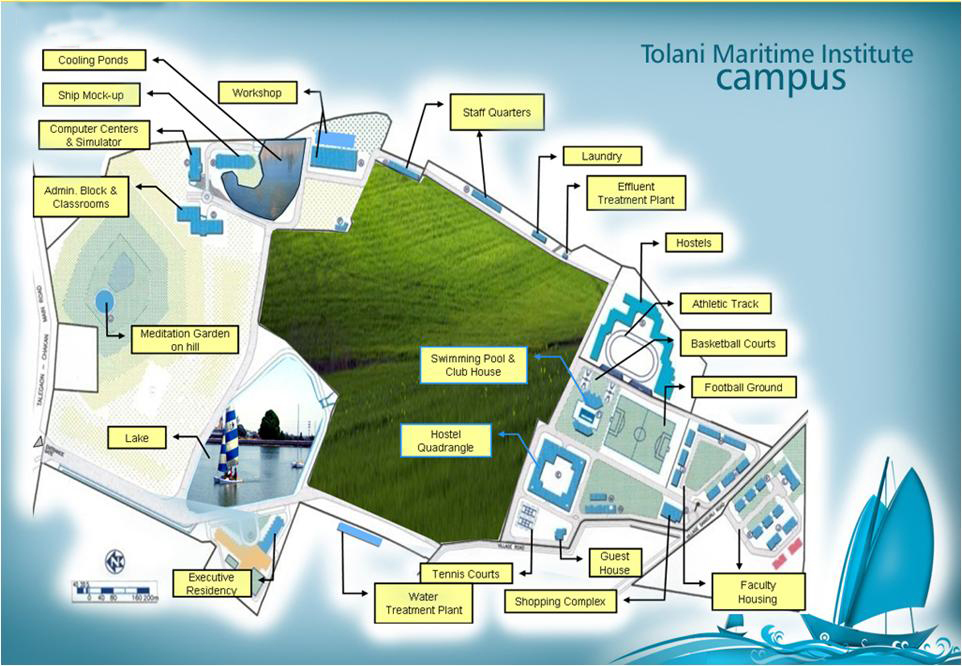 Pleasant and healthy environment
It is the firm belief of the management that a pleasant and healthy environment is an excellent catalyst for learning and therefore no efforts have been spared in developing an aesthetic campus with every reasonable convenience. It starts with the network of wide tree-lined roads and architectural design that blends comfortably with the landscape. This is supplemented with the waterscape of cooling ponds and a lake.
Campus Engineering System
The primary components of the campus engineering system include:
Power plant
Modern vapour absorption chiller
Water treatment plant
Effluent treatment plant
Power Plant
A seven ton per hour boiler capable of burning agro waste powers a steam turbine to produce electricity. A pair of diesel driven generators provides a backup to this primary source of electric power.
Vapour absorption chiller
The low pressure exhausted steam from the turbine is then used to power an environment friendly vapour absorption chiller to deliver chilled water to air conditioning units installed for climate control of the academic facilities.
Water Treatment Plant
The water treatment plant provides safe drinking water at every tap on the campus. A high level of maintenance attention and regular testing ensure the quality of the water.
Effluent treatment plant
The hundreds of campus residents generate a substantial quantity of effluent everyday. This is processed in a treatment plant that yields water safe for use in watering of the lawns and plants. The remaining solid waste is used as fertilizer.
Protection of the Environment
Conservation of resources and protection of the environment is a central theme in the design of this campus. In addition to the proactive elements incorporated into the design of the engineering systems the boiler exhaust is processed through an electrostatic precipitator to minimize air pollution.
Digital Connectivity
Entire campus is fully wired with One Gbps networking in all forms. High-speed data communications take place over a fully switched network based on distributed optical fiber backbone with One Gbps bandwidth capacity that can be extended to 10Gbps. Campus residents can freely access the Institute's server resources as well as the Internet from almost anywhere on the campus. All users get high speed internet connectivity with 1.0 Gbps dedicated Internet Lease Line(ILL) service with "Class A" category service provider.
A modern digital EPBX is the hub of an extensive voice network that provides direct access for off campus calls.