Residential Facilities
Residential facilities include hostel accommodation for students, townhouse styled apartments for faculty and an executive residence for persons enrolled in advanced courses. Extensive sports facilities have been provided to promote a healthy active lifestyle with a competitive streak.
Student Hostels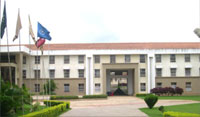 Students reside in three hostels each having more than 250 rooms, modern kitchens and separate 250 seat dining halls. A reading room, a television room with a large screen projection television and activity areas are located in the buildings. An internal quadrangle provides a large open space suitable for recreational or leisure activities and hostels 2 and 3 overlook a 200 metre synthetic athletics track. A majority of hostel rooms also have Wi-Fi access to the campus data network, which enables broadband Internet connectivity.
Faculty Residence Complex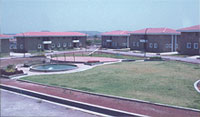 Majority of the faculty members and essential support staff stay on campus. Ample high quality, spacious residences are provided on the sprawling grounds. Walk-ways and attractively landscaped gardens with children's play areas have been provided within the Faculty Residence complex to support every facet of family life. This allows for community building and extended faculty interaction with students. This not only helps in producing good shipboard officers, but also better citizens for tomorrow.
Executive Hostel Block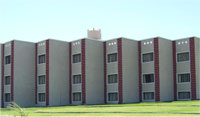 A separate building overlooking the lake houses well furnished single / double rooms suitable for senior officers and short term visitors.