Corporate Social Responsibility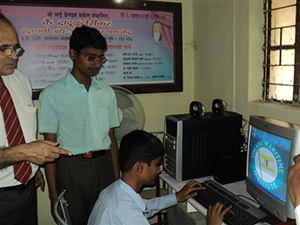 A recent and very important initiative by TMI is the formation of Community Service Club (CSC). One of the objectives of the CSC is to support the Aanganwadis around campus. Aanganwadis operate under the Integrated Child Development Service Scheme run by Ministry of Women and Child Development, Govt. of India. TMI efforts are directed towards making a lifelong change in the intellectual, social and educational standards of the children. The idea was conceived and promulgated by Dr. Sujata Naik -Tolani, Vice Chairperson, TMI Governing Council. About 19 faculty and staff members, many family members and more than hundred cadets volunteered to the join the CSC. Also, Dr. Shephali Dave joined as Consultant for the purpose.
TMI has adopted 11 Aanganwadis in the nearby villages and is working towards bringing them to ISO standards in terms of infrastructure and provide other services on regular basis.
Since its inception, activities conducted by the CSC in all Aanganwadis are:
Building compound walls, art painting of walls, installation of water tank
Donation of cupboards and containers for food grains etc.
Donation of other materials like Mats, Dustbins and Plastic Bags, Liquid soap with dispenser, First Aid Box, Puzzles, Water Filter, Fire Extinguisher, and ID
Celebration of birthdays of all children
Celebration of Childrens' Day
Fire Fighting and First Aid Training to Teachers and Helpers of Aanganwadis. Till date over 150 persons are trained and process for entire Maval and Khed Taluka is in progress
Donation of computers
Organisation of health camps. Doctors of  D. Y Patil Medical College were called for the purpose
Identification of children with dyslexia and training of teachers by expert doctor and follow up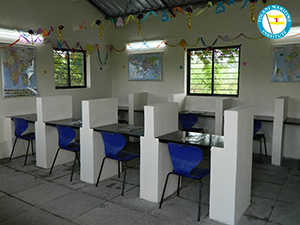 As a result of this, 4  Aanganwadis have succeeded in getting the ISO 9001 certification. The goal is to upgrade remaining Aanganwadis so that they also acquire the same certification. This initiative received wide appreciation from the concerned government officials, Sarpanch of various villages and local villagers.
Apart from supporting the Aanganwadis, TMI CSC also conducts activities in the nearby villages like:
Training ZP Schools teachers and students
 Teachers: How to motivate students
Students: Basic Maths, Basic English, Sports Training, Cleanliness, Safety, Social manners,  Hygiene etc.
Donation of software for blind students
In response to "Swacchha Bharat" slogan of the Prime Minister, organisation of cleaning drives in the nearby villages as well as on the Bhandara Dongar – a holy hill near TMI
Environment Day celebration by planting trees in ZP school, Induri
Celebration of Childrens' Day at ZP school in Induri village